Wakaba Nijou (二条 若葉) is a Summer Radish character. She is the daughter of Ms. Nijou and Tomaru Sawagoe. She is mentioned in Summer Days.
Her first daughter (Hanon) was introduced in Cross Days, the next two (twins Futaba and Kazuha) were introduced in Summer Days, and the final 6 are just mentioned.
The first three she had with her coagnate half-brother Shun Hazama. The father of the last 6 is unknown.
Wakaba was born as the only daughter of Mrs.Nijou. She's one year younger than Shun.
Summer Radish Vacation
Edit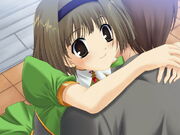 Summer/Shiny Days
Edit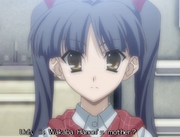 Although Wakaba doesn't make a direct appearance in Summer Days/Shiny Days, she is mentioned several times by her daughters and
Inori Ashikaga
. According to Niki, Wakaba may not have good relationship with her eldest daughter Hanon since Niki doesn't even know her name despite going to the same school as her daughter.
Her name Wakaba means "young leaves".
She is named after the Nijou Clan.
Ad blocker interference detected!
Wikia is a free-to-use site that makes money from advertising. We have a modified experience for viewers using ad blockers

Wikia is not accessible if you've made further modifications. Remove the custom ad blocker rule(s) and the page will load as expected.