The Kagura Offering

Menu picture after the ending

Summer Days

No

Shiny Days

Yes
The Kagura Offering
is one of
Inori Ashikaga
's Ending and can be considered as the true ending in Inori Route due to it brings proper closure to the wars between her and the shrine. It also solves many of the questions left hanging from
Summer Radish Vacation
.
You can go to this end by answer "I am Setsuna's lover" to temprorary manager, "We are betrothed" to Inori and "Inory" - in the shrine. 
Final Episode: The Kagura OfferingEdit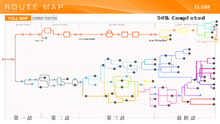 Ad blocker interference detected!
Wikia is a free-to-use site that makes money from advertising. We have a modified experience for viewers using ad blockers

Wikia is not accessible if you've made further modifications. Remove the custom ad blocker rule(s) and the page will load as expected.