Summer Vacation is the opening song of Summer Radish Vacation and Summer Radish Vacation 1.1. The song was performed by KIRIKO.
Shiokaze no iro tsunahama no shiro

Isoga na kya yakusoku no machiawase Sugiteru

Seifuku no mama Sandal ga jama

Suashi ni natte hiku nami kanjiru

Migiwa ni ukabu garasu mitai ni utsusu anata no hitomi o mite

Futari deau unmei shinji rareta omoi wa natsu no yume janai

Kaigantōri anata nō shiro

Jitensha de hashiridasu

Summer Vacation!

潮風の色 砂浜の白

いそがなきゃ 約束の待ち合わせ過ぎてる                  

制服のまま サンダルがジャマ!                  

素足になって引く波感じる         

水際に浮かぶガラスみたいに映す あなたの瞳を見て    

ふたり出会う運命信じられた 思いは夏の夢じゃない

海岸通り あなたのうしろ                       

自転車で走り出す 

サマーバケーション!
Color of the sea breeze, whiteness of the sandy beach

Hurry, to our place of promise

The uniform as it is, sandals are troublesome

I feel the waves are pulling my bare feet in

Look at the shinning water edge is like looking into your eyes

I believe that it's destiny for us to meet

Our feeling isn't just a summer dream

I begin riding the bicycle behind you on the seafront

Summer Vacation!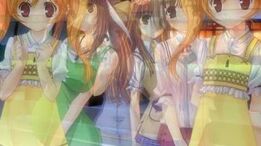 In the 1.1 version,Natsuhi Ebata was added to the opening. However, her name and voice actress (Maki Kobayashi) wasn't shown.
Ad blocker interference detected!
Wikia is a free-to-use site that makes money from advertising. We have a modified experience for viewers using ad blockers

Wikia is not accessible if you've made further modifications. Remove the custom ad blocker rule(s) and the page will load as expected.