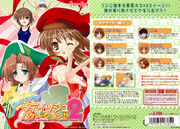 Summer Radish Vacation 2 is the 2004 sequel to the 2003 game Summer Radish Vacation.
It is also in the same setting as two games by other companies:
The chronological order is as of yet unclear, this may be a sequel or midquel to those games. However, based on the fact that Rio Inou from Summer Radish Vacation appears to be around 20s in this games, this game might be set at least 14-15 years after Summer Radish Vacation with Large PonPon coming first. 
Characters
Edit
Screenshots
Edit
see /gallery
Ad blocker interference detected!
Wikia is a free-to-use site that makes money from advertising. We have a modified experience for viewers using ad blockers

Wikia is not accessible if you've made further modifications. Remove the custom ad blocker rule(s) and the page will load as expected.