Summer As Usual

Menu picture after the ending

Summer Days

Yes

Shiny Days

Yes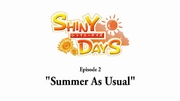 Summer Opens With Gossip is one of the 7 possible bad endings on Shiny Days and one of the 7 possible second chapters.
The episode starts at Sekai's house, where she reveals to Setsuna she has the mumps.
In the next scene, we can see Makoto and Setsuna talking, she tells Makoto she has a partial job and Makoto tells her he wants to have partial job but can't because of her sister (Itaru).
In the next scene, we can see Setsuna welcoming the same customer that tried to hit one her last time. When she's done and goes to the kitchen, Youko tells her she's bad at the job but that she's getting better. Setsuna goes to attend a rough customer, when she's done with that customer, she attends Hikari.
In the next scene, we can see Setsuna waiting for Makoto at the beach but he thinks she's busy so he leaves. After that, we can see Makoto with Otome and Itaru in the beach, it's implied that Makoto never spoke with Setsuna again (at least in the summer).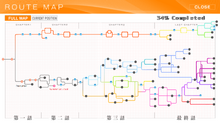 Ad blocker interference detected!
Wikia is a free-to-use site that makes money from advertising. We have a modified experience for viewers using ad blockers

Wikia is not accessible if you've made further modifications. Remove the custom ad blocker rule(s) and the page will load as expected.