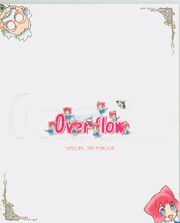 0verflow special data book
is a booklet bundled with the 0verflow Premium Box. It contains previous illustrations from Large PonPon, PureMail and 0verflow Pleasure Box; relationship charts of the characters from Large PonPon and PureMail, walkthroughs for Large PonPon, PureMail and PureMail After; a map of Oohara City, the 0verflow Character Adultery Chart, a family tree of the characters from 0verflow's games and the Kagura Chronology a chronology of Kagura's life between Snow Radish Vacation!! and Summer Radish Vacation!!.
There are many errors through the book especially in the 0verflow Character Adultery Chart.
Ad blocker interference detected!
Wikia is a free-to-use site that makes money from advertising. We have a modified experience for viewers using ad blockers

Wikia is not accessible if you've made further modifications. Remove the custom ad blocker rule(s) and the page will load as expected.