Paris for Four

Menu picture after the ending

Summer Days

No

Shiny Days

Yes
Similar to How Many Hours by Train, except Makoto goes to Paris at the end, making up with Setsuna. In a post-credits scene it is revealed that Setsuna, Youko and Mai all ended up pregnant from Makoto and together they force Sekai to become pregnant too.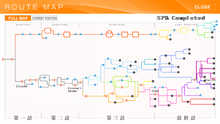 Ad blocker interference detected!
Wikia is a free-to-use site that makes money from advertising. We have a modified experience for viewers using ad blockers

Wikia is not accessible if you've made further modifications. Remove the custom ad blocker rule(s) and the page will load as expected.