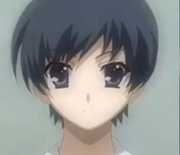 Natsuki Hosokawa (細川 那津希) is one of Roka's friends in Cross Days. She's also Oruha Hashimoto's younger sister but with different surname due to their parents' divorce many years ago.
Ad blocker interference detected!
Wikia is a free-to-use site that makes money from advertising. We have a modified experience for viewers using ad blockers

Wikia is not accessible if you've made further modifications. Remove the custom ad blocker rule(s) and the page will load as expected.