Ms. Nijou is a woman who is impregnated by Tomaru Sawagoe and gives birth to Wakaba Nijou. The only known image of Mrs. Nijou is a picture seen in Summer. She had relations with Tomaru after Snow but before Summer. She is the grandmother of Hanon, Kazuha and Futaba from Cross Days.
Appearance
Edit
From the photo provided by Wakaba, Ms. Nijou appears to be a woman with orange hair and brown eyes. Her overall appearance is similar to her daughter.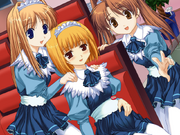 Long ago, Ms.Nijou was a good friend of Kagura Inou. She, along with several girls from her class, were invited to a party at the Snow Radish Restaurant two years after the event of Snow Radish Vacation. There, she met a man named Tomaru whom she became attracted to, believed him to be her first love. However, the party was quickly revealed to be full of sexual actions and not before long she was pregnant with Wakaba. Still, even though she was pregnant, Mrs.Nijou was forced to have sexual intercourse with the customers that come to the restaurant. Despite the actions being extremely unpleasant, she endured as that make Tomaru very happy. 
Still, knowing that Tomaru was engaged to Kagura left Mrs.Nijou heart broken. After gave birth to Wakaba, she and her daughter moved to Haramihama to start a new life and pursued her study to become a nurse as she was inspired by Arisu Takatsukasa, a former waitress at Snow Radish.
She is named after the Nijou Clan.
Ms.Nijou, along with Risa Inou, are one of the few character to not make an appearance directly to the protagonists.
Ad blocker interference detected!
Wikia is a free-to-use site that makes money from advertising. We have a modified experience for viewers using ad blockers

Wikia is not accessible if you've made further modifications. Remove the custom ad blocker rule(s) and the page will load as expected.