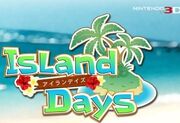 Island Days is a spin-off from the "Days" series released 3 July 2014.
You play as male protagonist, Itou Makoto, and interact with several female characters and build a relationship with each of them. Moreover, the game also contains a mini tower defence, where Makoto and the other female characters will defend their food supply from wild animals taking it. Similar to the previous visual novel series, each female will have an ending based on Makoto's actions. The preview (screenshots) of the game had indicated that there will be several bad endings as well (contains violence between female characters).
Itou Makoto, main protagonist and only male in this game, are in a boat cruise with eight female characters, all from School Days, Shiny Summer Days and Cross Days, which also had previous crush with him. All of a sudden, the boat becomes unstable and they all become stranded on a deserted island. Trapped and with nobody else but each-other to rely on, they have no choice but to survive until rescue comes in.
Characters
Edit
Itou Makoto (Protagonist)
Ad blocker interference detected!
Wikia is a free-to-use site that makes money from advertising. We have a modified experience for viewers using ad blockers

Wikia is not accessible if you've made further modifications. Remove the custom ad blocker rule(s) and the page will load as expected.