Hikari Kuroda is the minor character of School Days anime.
Appearance
Edit
Hikari has mid`length brown hair tied into rings with red orbs as her hair accessory. She`s slightly taller than Sekai and Kotonoha and is usually seen in her school uniform. At the water park she wears an orange swimsuit with ruffles. During the school festival she wears a pink and white waitress uniform.
Personality
Edit
Hikari is a rather cheerful yet temperamental girl who`s quite friendly and social. Yet, she has a negative opinion for boys (especially Makoto) in general. Unlike Otome and Nanami, Hikari doesn`t make an effort to sabotage Kotonoha`s relationships and is less prone to harassing her.
OVA Story
Edit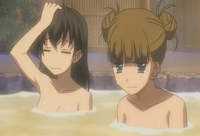 Hikari was first seen on a onset with other girls here she was amazed by Kotonoha's father having a connection on the onset their staying as well as abroad when Kokoro mention it also to them.During Otome and Nanami teases Kotonoha by staring at her breasts until Setsuna tells them that satisfaction is what matters not the size scaring Hikari as well afterwards Sekai plotted to picked up Makoto and Taisuke by luring them via claiming that they we're having a mixed bath together which both of them fell in her trap resulting for them to be thrown by a bucket and Sekai teases them as well as Hikari.
The day before Valentine's day arrive,in the Raddish Restaurant Sekai had a discussion with Hikari about her plan in the Valentine's day,when Sekai tells her that she had no plans for the coming Valentine's day Hikari suspected that she was actually going to give some chocolates to Makoto to which Sekai was planning to give him a giri chocolate but Hikari teases her by telling her that Sekai was giving honmei chocolate to Makoto,Sekai countered this by asking Hikari about her plan for the day to which Otome intervenes by saying that Hikari was confessing to Taisuke to which ironically Hikari tries to deny it as well.
The day Valentine's day had arrive Hikari plans to give giri chocolates to Taisuke after class but gives up after failing to find him until she was crashed by Otome,Sekai,and Kotonoha who were chasing Makoto after the latter running passed on her.
Relationship
Edit
Ad blocker interference detected!
Wikia is a free-to-use site that makes money from advertising. We have a modified experience for viewers using ad blockers

Wikia is not accessible if you've made further modifications. Remove the custom ad blocker rule(s) and the page will load as expected.