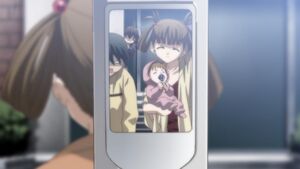 Hikari's baby refers to a baby had by Hikari Kuroda in one of the School Days endings, whose father is presumably Makoto Itou.
The Gender of the baby is unknown but in an older game made by 0verflow the gender of Rurika's baby is determined by the color of its pajamas (or blanket). From this it's hinted the baby may be a girl. The baby also resembles Hikari more than Makoto with its hair color and skin color which may be another hint.
Ad blocker interference detected!
Wikia is a free-to-use site that makes money from advertising. We have a modified experience for viewers using ad blockers

Wikia is not accessible if you've made further modifications. Remove the custom ad blocker rule(s) and the page will load as expected.