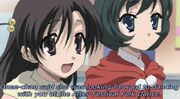 Episode 9 titled After Evening Festival, concludes the School Festival.
In the evening a folk dance is being held, and Makoto is torn between choosing to dance with his girlfriend Kotonoha, his lover Sekai, or his childhood friend Otome. 
Ad blocker interference detected!
Wikia is a free-to-use site that makes money from advertising. We have a modified experience for viewers using ad blockers

Wikia is not accessible if you've made further modifications. Remove the custom ad blocker rule(s) and the page will load as expected.